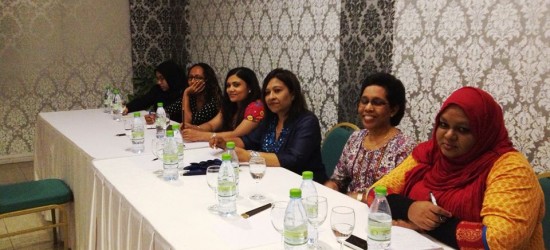 On the 15th of May, Hope for Women hosted the second round of a series of women's forums.  These forums are aimed at establishing a network of women leaders to discuss women's rights issues.  The purpose of the forum is to establish a platform for these women leaders, who are active in various areas of the society, to sit together and share their thoughts on the challenges that Maldivian women face today, and to brainstorm means by which these challenges may be addressed.
At the second meeting, the key issues identified during the first meeting held in April were shared (see news from 22nd April for details), and participants were asked to select the three areas that they felt were most crucial and to decide on ways to address these issues by compiling a list of recommendations.
The priority areas selected at this meeting were; the presence of gender discriminatory clauses in laws and regulations, the lack of open forums to discuss women's human rights issues, and the absence of gender inclusive and/or gender sensitive resources within the educational system.  After identifying these priority areas, participants discussed and suggested specific recommendations for each issue.
Future meetings will address the recommendations compiled at this second meeting, focusing specifically on making concrete and practical decisions regarding the implementation of these recommendations.