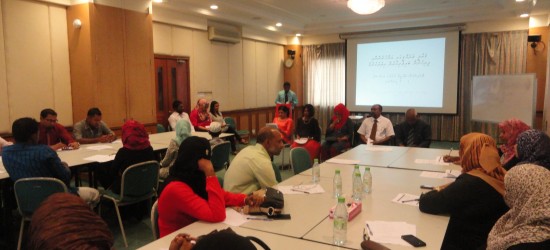 The training of trainers was conducted from 1st till 5th  December 2013 for duration of 5 days in Male'. The training  was aimed at fostering a group of gender experts as trainers and building their capacity on gender equality, women's empowerment and human rights issues in the Maldives. This was the second batch of trainers who were trained as a part of capacity building, which commenced in 2012. The training is organized jointly by the Ministry of Health and Gender, UN Women, UNFPA, 643 and Hope for Women. Hope for Women provided technical and administrative support in conducting the training. Some of the sessions were conducted by the executive board members of Hope for Women.
The objectives of the training are,  to increase the knowledge and understanding of participants on gender equality, women's empowerment and human rights; to provide leadership and training skills to participants and increase their confidence; to create a network of gender experts and women's rights advocates who will push the gender equality agenda forward in the Maldives; to build a perspective on gender equality issues in the Maldives and globally.
Once the ToT was completed, participants were evaluated and registered in a roster of trainers. They will be mobilized for various training for different target groups, such as local councilors, communities, women development committees, civil society organizations and government employees that may be supported by UN agencies or the Government. The initial ToT was conducted in Dhivehi. A follow-up training will be planned in early 2014.
The training encompassed topics, such as gender awareness, gender analysis, prevention and response to gender based violence, sexual and reproductive rights, girl child issues, international human rights framework, leadership, facilitation and public speaking skills. A total of  24 individuals were trained in the second batch, from which the first batch was trained in 2012.